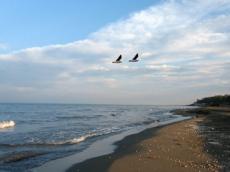 It is necessary to create a unified monitoring group to solve the environmental problems of the Caspian sea, Azerbaijani experts consider. They expressed this opinion during the video bridge Astana-Moscow-Baku on the theme "Sea: to protect and enhance wealth" on Friday.
"The problem needs to be addressed comprehensively. Each country reports annually on the work done to preserve the ecology of the Caspian Sea. Everything is fine. But in general, there is no yet a joint monitoring group to oversee the environment; this problem will not be solved," the professor of the Baku State University and director of the Caspian Research Center, the chairman of the Center for Regional Development, Chingiz Ismailov said.
According to him, the unresolved issue of the status of the Caspian Sea prevents the establishment of a joint monitoring group to date. "However, if such a group is established between the three states that have conducted the delimitation of maritime boundaries in the Caspian Sea (Azerbaijan, Russia, Kazakhstan), it will help to solve a number of issues," he said.
The expert also urged the Caspian states to develop a joint program for the protection of coastal zones.
"The exploitation of the coastal zones is an additional pressure on the environment of the Caspian Sea," Ismailov said.
He recalled that the establishment of tourist centers on the coast leads to the emergence of new taps for sewage. In addition, a large amount of sewage enters with the waters of the rivers, particularly the Volga River, along which there are many industrial enterprises of Russia.
According to the president of the National Center for Ecological Forecasting Telman Zeynalov, the Caspian Sea is now more polluted by sewage and technological enterprises, rather than by oil.
He also urged the creation of a unified monitoring group on the Caspian Sea and include the experts from non-governmental organizations.
In his view, one of the reasons for the environment of the Caspian Sea to be damaged that the Caspian countries keep a very large fleet in the sea, and naval ships regularly dump their ballast water in the Caspian Sea.
In addition, the Azerbaijani experts have called for joint action to combat poaching in the Caspian Sea.



/Trend/