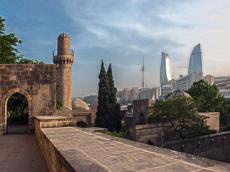 The National Hydrometeorology Department of the Ministry of Ecology and Natural Resources forecasts the weather to be intermittently gloomy and changeable cloudy against the backdrop of chiefly dry condition in Baku and Absheron peninsula on September 20. Soft southern wind to blow.
The temperature will be +17-20C at night and +25-30 in the noon.
While lightning and short-term rain are going to be seen in some northern and western regions, the main course of weather will be rainless. Eastern wind to waft.
The temperature will be  +18-23C at night, +27-32C in the afternoon, while +9-14C in mountains at night and +20-25 in the afternoon.
Meteosensitive people can feel uncomfortable due to high humidity in the air. Nevertheless normal daily course of meteorological determinants in Baku and Absheron peninsula will be good for them.
/Eco.Gov.Az/