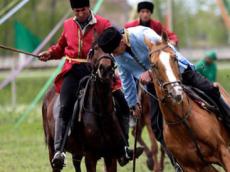 The eighth session of the Intergovernmental Committee will be held in Baku, Azerbaijan, from Monday 2 to Saturday 7 December 2013.
UNESCO press service informs that 10 periodic reports on the implementation of the Convention will be heard and 12 nominations to the Urgent Safeguarding List will be considered at the meeting. Azerbaijan is also among the countries, which have submitted nomination files. Azerbaijan has asked to include Chovqan, a traditional Karabakh horse riding game, in the list.
31 nominations submitted from various countries will be considered at the session. The nominations include ancient Georgian traditional Qvevri wine-making method, Iranian traditional medicine, Turkish coffee culture and tradition and etc.

/APA/