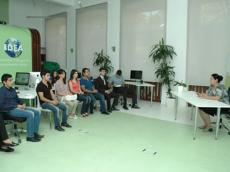 International Dialogue for Environmental Action (IDEA) has organized an interactive seminar on "Ways of fighting pollution of ozone layer" on September 16 - International Ozone Day.
About 30 young people interested in the environmental protection participated in the seminar.
Deputy Director of the National Environmental Monitoring Department at the Ministry of Ecology and Natural Resources Matanat Avazova noted lately the growing use of the energy and an increase of the carbon dioxide in the atmosphere may cause a hole in the ozone layer which may enlarge in the future.
This problem may create serious challenges for the future of the Earth.
The seminar revealed several types of the harm of the ozone hole to the human life. The expert listened to thoughts of the attendees answering their questions. She called participants to be more attentive to the solution of these kinds of problems.
IDEA holds similar seminars constantly.
IDEA was launched by Vice President of the Heydar Aliyev Foundation Leyla Aliyeva on 12 July 2011.

/AzerTAg/