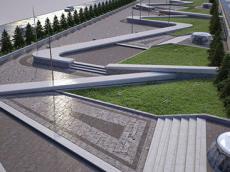 One more park is going to appear in Baku's Narimanov district.
According to the districts Executive Power, the ground for the relaxation corner will be broken in Heydar Aliyev avenue, not far from the Heydar Aliyev Center.
The total area of the park will approximately be 1 hectare. Fountains and new lightning system will be installed, as well as decorative trees and shrubs planted there, while residents of near houses will find all for a good relaxation in the park. The facility will meet modern standards. Construction work is planned to be kicked off this year.
Furthermore, the park at the intersection of Koroglu Rahimov and Hasan Aliyev streets has already been built. The two-storey parking lot for 800 cars is also envisaged to be constructed there.
/Day.Az/