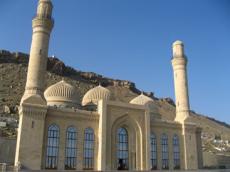 A group of influential international experts, playing a significant role in shaping international opinion and conducting constant research in the area of ??intercultural and inter-religious dialogue and tolerance in different countries paid a visit to Azerbaijan at the invitation of the State Committee within the project of the National Center of Tolerance, organized by the State Committee for Work with Religious Organizations, starting from August 30.
A press-conference was held in the office of the National Center of Tolerance, which is a joint project of the State Committee and the United Nations, following a three-day visit.
Head of the International Relations Department of the State Committee Nijat Mammadov said that the main objectives of the visit was to get acquainted with the model of tolerance of the republic, to hold meetings with representatives of various religious groups in Baku and the regions, as well as to visit historical monuments reflecting the history of the traditions of tolerance.
/Trend/