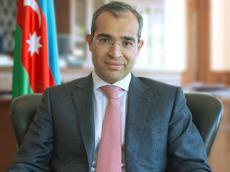 Azerbaijani youth needs to be comprehensively supported in the choice of specialties, Azerbaijan's Education Minister Mikayil Jabbarov said on Tuesday.
He made the remarks during a panel discussion on 'Protracted conflicts in South Caucasus: ways out of the difficult problem' organised at the Azerbaijan Diplomatic Academy within the framework of the second forum 'South Caucasus in a changing world', of the Association of Scientists for International Relations, which continues in Baku.
According to him, the choice of the right specialty is one of the main issues.
"Our youth needs all-round support in this sphere for them to contribute with their knowledge and skills to country's development," the minister said.
Highly intellectual personnel will be a locomotive of Azerbaijan's development, the minister said.
Azerbaijan is a young country which has deep historical roots and in a very short time it has become a regional leader, Jabbarov added.
"In addition to increasing the potential, we are establishing friendly relations with the neighbouring states. Azerbaijan pays great attention to the development of education and raising its level is one of the main strategies of country's development," Jabbarov said.
Much work is being done in education and important projects are being implemented, the minister said.
"Only literate and educated young people can lead the country forward and make the right decisions. Therefore, Azerbaijan by investing in education, is becoming a leading country and contributing to its science," Jabbarov said.
/Trend/