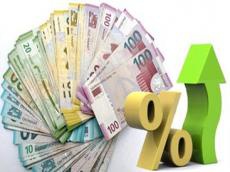 The Ministry of Finance of Azerbaijan is fully prepared for the payment of salaries, pensions and other social benefits with the increase in accordance with the signed by the President Ilham Aliyev orders, the Minister of Finance Samir Sharifov said on Monday in a speech on the state television AzTV.
"This a very important social package would cover about three million citizens of Azerbaijan, the majority of which are employees of the public sector entities, in particular in education sector (422 thousand people), health care sector (about 140 thousand people). At the same time, increase of salaries will affect organizations of social welfare sector, science, culture, youth and sports sectors", - the minister said.
According to the signed orders, there are 700,000 employees of organizations financed from the state budget on which the increase of salaries will affect.
"The policy of increasing of salaries in Azerbaijan carried out by the President is consistent. The previous salary increase was in the beginning of 2012 and starting from September 1, 2013 there is an increase of the salaries of almost all employees in the public sector. Since 2003, this is 12th salary increase, and thus the minimum average monthly nominal wage increased from 9 to 105 manats in accordance with the latest order of the President", - Sharifov said.
According to him, in nominal terms, the minimum wage increased more than 10 times for the last 10 years, while the inflation rate doubled for this period of time.
"In this way, the real incomes of the population, including public sector employees greatly increased. At the same time, an increase of the average monthly wage in the private sector is seen and for the first half of 2013 this index exceeded 410 manats, which is a great indicator. In 2003 the average monthly wage in nominal terms in the country was 77 manats, so we can observe a 5.3 times increase", - the minister said.
Inflation rose by 2.1 percent for this period of time, and an increase in real incomes of population is observed.
In accordance with the decisions taken, 200 million manats are allocated in the 2013 budget for these matters for about three million people.
In 2014, for the financing of these decisions it is planned to allocate additional 600 million manats, Sharifov said.
Referring to an increase of social benefits, which will affect more than 400,000 people, the minister said that the payments grown by at least 10 percent and a maximum of 60 percent. Increase will affect also about 540,000 IDPs.