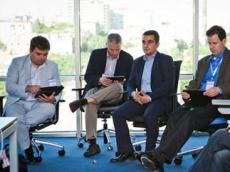 By AzerNews

Azerbaijani President Ilham Aliyev has signed a decree to approve the law aiming to improve the business environment and create favorable conditions for the work of entrepreneurs in the country, which was passed by the country's parliament in early July.
The main objective of the law "On protection of the interests of entrepreneurs and regulation of controls exercised in the entrepreneurship sector" is to formulate single principles of control over entrepreneurial activity as well as to prevent illegal interference in the work of entrepreneurs during check-ups. The new legislation restricts audits which are irrelevant to the new requirements.
According to the law, while implementing audits businesses will be divided into groups with high, middle and minor risk. The entrepreneurs who did not commit law violations for a certain period of time will be included in the group with small risk. The duration of planned audits of large entrepreneurs should not exceed 10 days and those over middle and small entrepreneurs will last five days, while unplanned check-ups of major entrepreneurs should not exceed five days and those over middle and small businessmen -- three days.
According to the legislation, unplanned check-ups will be conducted not at the request of the supervisory authority, but only in specific cases should the law require. For example, such audits may be necessary if the decision on eliminating the violations revealed as a result of a previous check-up is not executed.
Furthermore, it is planned to determine and approve the list of supervising bodies in order to prevent independent undertaking of control duties by executive authority bodies. The number of the bodies exercising the control will be significantly reduced in the future as well.
The President of Azerbaijan instructed the Cabinet of Ministers to draft a law that defines the types of responsibility for the violations of the law, proposals to eliminate cases of repeat powers of supervisory bodies, to determine the criteria of large, medium and small business entities and submit them to the President.
According to international practice, there are one or two such supervisory bodies in a country. A hotline will be created in Azerbaijan in each controlling body, enabling businessmen to get answers to their questions.