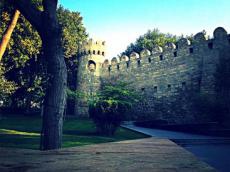 The National Hydrometeorology Department of the Ministry of Ecology and Natural Resources forecasts the weather to be variable nebulous and rainless in the main on August 27. Soft north-eastern wind to blow.
The temperature will be +19-24C at night, +29-34C in the afternoon.
Sea water temperature will be +25-28C at Absheron beaches.
Dry weather condition is predicted for most of the Azerbaijani regions. Nonetheless, mountainous areas will have local short-term rain. Eastern wind will blow.
The temperature will be  +20-25C at night, +33-38C in the afternoon, while +10-14C in mountains at night and +21-26 in the afternoon.
Despite the temperature regime nigh to the climatic norm from August 27 to 29, stuffy heat weather due to the high air humidity can cause discomfort for people.
/Eco.Gov.Az/