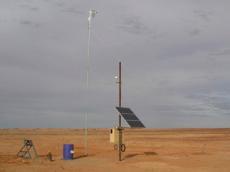 Source:
/AzerNews/
Turkmenistan intends to cooperate with Azerbaijan in the field of seismology. The Seismology Institute of the Academy of Sciences of Turkmenistan is keen to study the experience of the Cybernetics Institute of the Azerbaijan National Academy of Sciences.
The two countries are considering a draft agreement on cooperation in the creation of a seismoacoustic station to conduct experimental research on the Turkmen territory.
Seismology is the study of earthquakes. A quake, one of the catastrophic natural disasters of the Earth, not only causes devastating destruction, but also claims hundreds and thousands of lives. According to estimates, earthquakes occurred 831 times in the period 1965-2010.
Azerbaijan and its part of the Caucasus Mountains are located at the junction of the South Arabic and North Eurasian tectonic plates. These plates are always in movement, which causes earthquakes in the country's territory.
Azerbaijan pays special attention to the development of seismic experience and installation of seismic stations. The first seismic station in Azerbaijan was established in 1902 in Baku.
One of the innovations introduced in Azerbaijan in the area of early recognition and possible warning on earthquakes, is the RNM ASP (the station of robust noise monitoring of anomalous seismic processes) seismoacoustic stations.
Five RNM ASP stations are operating in Azerbaijan. The facilities carry out the monitoring of seismoacoustic noises.
Specialists of the local Cybernetics Institute have repeatedly delivered reports at international conferences summing up the results of experiments on monitoring of anomalous seismic processes.
Thus, the Cybernetics Institute is ready to grant an RNM ASP station to the disposal of the Seismology Institute of Turkmenistan.
Turkmenistan is located in a seismically hazardous zone. On October 6, 1948, the Turkmen capital of Ashgabat suffered a catastrophic 10 magnitude earthquake, which caused the loss of many lives.
The territory of the Central Asian country is characterized with structurally unstable soils. High corrosive activity was observed in the country due to the climatic conditions. The high salinity of ground water, intensity of solar radiation and other environmental factors are the subject of studies by local seismologists as well.
Therefore, Turkmenistan's Seismology Institute is expanding the geography of international cooperation, conducting broad scientific exchanges and establishing ties with scientific organizations of numerous countries.
At present, the Seismology Institute is involved in drafting a new map of seismic zoning of the Turkmen territory. The preparation of a reliable zoning map requires seismological data and information about the frequency and power of the earthquakes.
The new map of general seismic zoning of the Turkmen territory, which is compliant with international standards, is essential to assess the socio-economic and environmental vulnerability of the territories surveyed, rational land use, and to reduce the seismic hazard.