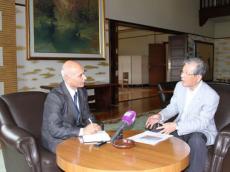 A twinning agreement will be signed between the Japanese city of Ito and Azerbaijani town of Ismayilly. The document will help deepen cooperation between the two peoples, President of the International Association for Cooperation of the city of Ito told AzerTAc`s correspondent.
The signing was proposed by President of the Kosugi Zohen Co.LTD, landscape design company Saki Kosugi.
"I want to remind that this company is an author of the Japanese Garden built in the Heydar Aliyev Park located in Ismayilly. President of Azerbaijan Ilham Aliyev, who inaugurated the garden, said continuation of this work will be beneficial for both nations," he said.
After both countries` leadership gave go-ahead, discussions were held to begin preparations for the signing. The point is that both towns look alike in terms of their nature. The preparation for the signing of the documents began after Azerbaijani ambassador to Japan Gursel Ismayilzade`s discussions with Ito administration.
Ohnuma went on to say that Ito mayor Hiromi Tsukuda also visited Ismayilli in October last year. In an interview to Shizuoka newspaper, he expressed his willingness to cooperate with Azerbaijan.
"We are expecting the visit of the Ismayilly administration to Japan to ink the twinning agreement," he noted.
Ohnuma pointed out that the twinning agreement will help to deepen cooperation between the two peoples.
/AzerTAc/