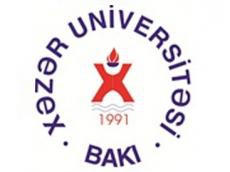 Khazar University`s Eurasia Knowledge Centre held a training session entitled "Hydrocarbon and minerals: From extraction to sustainable development."
The event brought together journalists, officials of government agencies, and representatives of Ukrainian, Kazakh, Kyrgyz, Tajik and Mongolian universities.
Director of the Knowledge Centre Ingilab Ahmadov, briefed the participants on the goal and practical significance of the program.
The event also featured the presentations on contracts in the extractive industries and their transparency, corporate social and environmental responsibility, EITI, budget issues, revenue management, sovereign funds (oil funds), and economic diversification.
BP specialists made the presentations on the company`s social and fiscal commitments.
The participants also visited the Sangachal terminal of the Baku-Tbilisi-Ceyhan main export oil pipeline, where they had an up-close introduction to the business process.
Specialists of America`s Revenue Watch Institute, experts Andrew Bauer and Susan Maples, made the presentations in the area of extractive industry contracts and their economic and legal aspects, contracts of employment and fiscal instruments, signing contracts, revenue management, ?? sovereign wealth funds and macroeconomic management.
The Graduates who have successfully completed the training for trainers will join Eurasia Knowledge Club`s group of trainers.
The participant had received the special certificates and Khazar University`s gifts.
/AzerTAc/