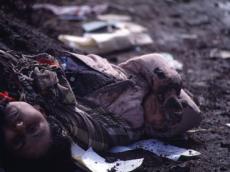 The Italian Helsinki Committee for Human Rights has organized an international conference called "Violation of human rights in warfare. The Khojali massacre – A Srebrenica in the Caucasus?" in Roma`s Tempio di Adriano Palace on Monday.
According to the Azerbaijan Embassy in Italy, deputy rector of Sapienza University of Rome, Professor Antonello Biagini made a welcoming address at the event. Antonello Biagini spoke about the Armenia-Azerbaijan, Nagorno-Karabakh conflict, stressing the similarities and differences features of the Khojaly and Srebrenica tragedies.
Professor of the Sapienza University of Rome Sergio Marchisio noted the importance of educating world community on the Khojaly massacre.
Expert of the Freedom Rights Project Aaron Rhodes touched upon the issue on refugees and IDPs, especially in Azerbaijan.
Azad Jafarli form Baku State University spoke at the event, highlighting Armenians` territorial claims and genocidal acts committed by them against Azerbaijanis.
Antonio Stango, Secretary General of the Italian Helsinki Committee for human rights delivered the closing speech.
The conference was attended by representatives of Italian higher schools, state and international organizations, diplomatic corps in Rome and journalists.

/AzerTAc/