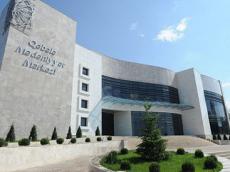 The construction of the large cultural center completed in Gabala, region's EP told.
According to the information, the object was built on the order of the Ministry of Culture and Tourism and equipped with the necessary inventory, equipment. The department of culture and tourism will function in the center. Building consists of 2 floors and a cellar. A place was allocated for the parking of 30 cars, etc. in the 2057m² basement.
A site was provided for reading hall, stages, foyer, cloak-room, 3 makeup and rehearsal rooms on the 272 m² first floor. The corner for National Leader Heydar Aliyev locates here, as well.
On the 328 m²  second floor, there will be lobby, meeting room, director's office, 2 VIP rooms, lounges for actors and rooms for the storage of theatrical costumes.
Center will be commissioned today.
/Day.Az/