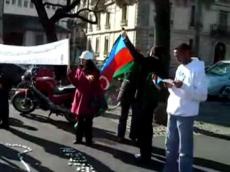 Azerbaijan`s Embassy to Switzerland jointly with "Friend of Azerbaijan" Union held an event marking the 21st anniversary of the Khojaly tragedy.
The event started with a one-minute-silence in memory of the Khojaly victims.
The event also featured a demonstration of the Khoja, a movie by Azerbaijani filmmaker Vahid Mustafayev.
Khoja is a tragedy and greatness of two loving hearts. It tells about the heroism of ordinary people. The main characters Yura and Mehriban were initially indifferent towards each other. But when the time comes to protect their land with weapon in their hands against the Armenian occupants, true feelings erupt in their hearts.

/AzertTAc/