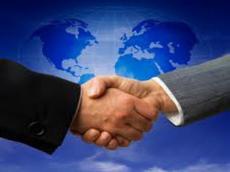 A German delegation headed by Hans Manzke, Director of the International Relations Department at NORDMETALL, has visited the Education, Training and Certification Department of the State Oil Company of the Azerbaijan Republic (SOCAR).
Head of the Department Fuad Suleymanov spoke about the personnel preparation programs and courses on different professions organized in training centres. He also underlined the beneficial cooperation with companies operating in Germany, Great Britain, Ukraine and Turkey.
In turn Hans Manzke informed about the activity of NORDMETALL and its training centres. He expressed his confident for implementation of new projects with Education, Training and Certification Department.
NORDMETALL is not a company, but an association of companies: The college is named after the employers` federation "NORDMETALL" which is a consortium of 250 businesses from the metal and electrical industries in the northern part of Germany (e.g. Airbus, Siemens, Philips, Daimler, but also many small and medium-sized companies specialized in engineering, maritime industry, medical technology and other fields).
/AzerTAc/