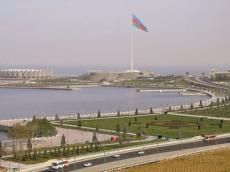 Construction and repair-renovation work on different objects of Baku's Sabail district runs with rapid pace. 
Head of Information security and analysis department of Sabail district's Executive Power (EP)  Israfil Karimov reported on it.  
According to him, 2697 new jobs were opened in the district, in 2012. 
"Several large objects were constructed, repaired and put into operation in the territory of Baku's Sabail district within the reporting period – "Icherisheher" substation of "Bakuelektrikshebeke" JSC,  "JW Mariott Absheron" hotel, park in front of "Hilton" hotel, Heydar Aliyev park in Badamdar settlement, Baku funicular, underground pedestrian passage in "Azneft" square, town "Little Venice", Palace of Happiness, 5 star "Four Seasons" hotel, new building of school ?329 and kindergarten, "Intellect" school-lyceum ?49, building of National Security Ministry's hospital in Badamdar settlement, In addition, monuments of USSR people's artist Bulbul and Soviet Union Hero Hezi Aslanov were installed in the district last year" Karimov said.
As well as building fire protection office building, 3200-seat "Bail" stadium, transitional body of Azerbaijan's National Art Museum, 6-storey car parking for 2000 cars in Uzeyir Hajibeyov street were built in the district.



/Day.Az/