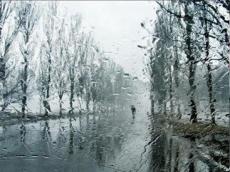 The National Hydrometeorology Department of the Ministry of Ecology and Natural Resources reports that cloudy weather is expected to dominate during interruptedly rainy day in Baku and Absheron peninsula, on February 2. North-western wind is going to substitute south-eastern wind in the day's second half.
The temperature will be +1-4C at night, +4-7C in the afternoon.
As to the regions of Azerbaijan, intermittently rainy weather will be sleety and snowy for some of the regions. Occasionally strengthening western wind is predicted.
The temperature will be from -1 to +4C at night, +4-9C in the afternoon, while -5-10C in the mountains, -9-14 in high mountain areas at night, and from 2 degrees of frost to
+3C in the afternoon.
/eco.gov.az/