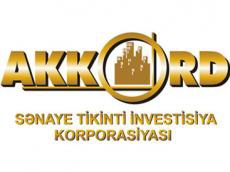 Chairman of the Board of Directors and General Director of Akkord Corporation Khagani Guluzade received Julien Erdem Erdegon, general manager of Freysa? and Ahmet Selahiye, Area Manager for central and Eastern Europe of Freyssinet International.
According to the press service of the Akkord Industry-Construction Investment Corporation OJSC, the sides exchanged views on strengthening and development of joint cooperation.
Freysa? company cooperation with Akkord started from bridge construction in Georgia.
During the meeting, they also discussed cooperation opportunities for using Akkord`s materials for Freysa? and Freyssinet International.
Julioen Erdem Erdogan and Ahmet Selahiye noted that the companies are interested in expanding of bilateral cooperation and joint participation in further projects with Akkord.
Freysa? - Freyssinet Yap? Sistemleri Sanayi A.S., has been established as a Turkish company with foreign capital in 1988.
The merger of Soletanche Bachy and Freyssinet in 2008 gave birth to an integrated entity made up of specialized businesses and technologies within VINCI Construction. Soletanche Freyssinet is a multicultural group with 15,000 employees operating in more than 70 countries and represents an array of brands and expertise that is unrivaled in the world of specialized civil engineering.
World leader in specialist civil construction and engineering, Freyssinet Group operates in the construction and the enhancement of structures and soils and in the entire life cycle of nuclear power plants.
Through its trademarks Menard, Reinforced Earth and Nuvia, The group offers a range of technical solutions and know-how in line with the major environmental criteria linked to sustainability and is working to expand its offering accordingly, promoting the development of innovative solutions that conserve natural resources and reduce greenhouse gas emissions.
Increasingly involved in sustainable development issues, the Freyssinet Group is stepping up initiatives, to improve environmental protection on construction sites as well as strengthen its policy on social responsibility. Putting people at the core of the organization, the Freyssinet Group has thus been committed to active steps towards risk prevention and safety for several years. Freyssinet is a subsidiary of VINCI Construction, the market leader in France and a major player worldwide in construction and civil engineering.
Eugène Freyssinet conceived the idea of prestressing for the first time in 1903. Three years later, a circular described elastic properties of concrete, previously only known for steel. The stage was set for the prestressing adventure to begin. However it was not until 1928 that a patent entitled the "Manufacturing process for reinforced concrete components" was taken out for the prestressing system. The term "prestressing" did not appear until 1932. Freyssinet made a spectacular demonstration of the advantages of prestressing in 1934, when it successfully consolidated the Le Havre shipping terminal.
In 1943, Edme Campenon, Chairman of Entreprises Campenon Bernard, created the STUP (Société Technique pour l`Utilisation de la Précontrainte - Engineering Company for the use of Prestressing), Freyssinet processes, to take over and continue research work initiated by Eugène Freyssinet. The objective was to disseminate prestressing techniques and its applications to clients, to manufacture prestressing equipment and materials, and to provide technical assistance on site. The history of the Freyssinet Group thus includes four main steps.




/AzerTAc/