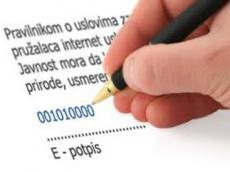 Foreign trade participants can now use a digital signature for customs operations in Azerbaijan. As head of Statistics and Information Technologies Department of the State Customs Committee (SCC) Iqbal Babayev told journalists, an electronic signature has been used in customs operations for a month.
"As a result of introducing the e-signature, paperwork has significantly reduced," Babayev said.
As head of SCC Aydin Aliyev told Trend earlier, an electronic payment system in the customs service of Azerbaijan will be developed and used in 2013.
He said in 2013 in the framework of customs to business (C2B), there are plans to improve existing electronic services and to launch the provision of the following services:
- Improvement of the system for receiving documents and requests on preliminary reporting for the clearance of goods and their means of transport through the state border;
- Online monitoring of customs clearance operations for imported and exported goods and means of transport;
- Reception of electronic customs declarations for the clearance of goods and their means of transport;
- The development and application of electronic payment systems for customs service.
He said in addition that the launch of e-Müraci?t e-services this year is expected for receiving inquiries and complaints from citizens in SCC, their operational consideration, integration of these services into an existing office system, accepting applications for employment and improve the information system for customers.
"Also, work will be continued on the integration of customs services rendered by the SCC to the e-government portal, Aliyev said.
"Today on the committee's website, online services are available for electronic passenger declarations for goods and vehicles owned by individuals transiting through customs posts. Also, there are resources for the provision of import and export statistics for interested foreign investors, a portal for customs service applications, information on custom payments for various types of goods and a customs payment option for vehicles,"Aliyev said.


/Trend/