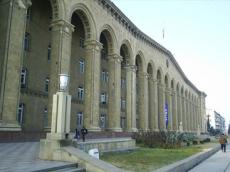 Representatives of Alstom, a French transport company, have visited headquarters of Executive Authorities in Ganja, Azerbaijan`s second largest city, to discuss construction of a tram line.
Head of Ganja Executive Authorities Elmar Valiyev said the project would see construction of tram lines in four directions in the city at the initial stage. According to him, the total length of the tram route will be 15 km.
"We plan to start from the Heydar Aliyev and Shah Ismayil Khatai avenues," Valiyev said.
The Alstom representatives made a presentation on the Ganja tram project.