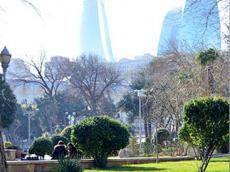 The National Hydrometeorology Department of the Ecology and Natural Resources Ministry reported that soft  warm weather is predicted to keep on in the next 2-3 days due to the relatively warm air currents which entered the country from south.  Although the mild warm weather will continue from January 22 to 24, intermittently intensifying Gilavar wind can cause inconvenience for some meteosensitive people.
In Baku and Absheron peninsula, morning and evening are forecasted to be misty for some areas while the weather to be mutable cloudy and dry in the main. Gentle south-western wind will blow.  The temperature will be +3-5?C at night, +13-18 C in the afternoon.
On January 22, chiefly rainless weather is going to be accompanied by fog in different places at night and in the evening. South-western wind waft and interruptedly strengthen in several regions.
The temperature will be +4-9 C at night, +15-20 C in the afternoon, while frosty with 0-5 C in the mountains and up to +3 C in some places at night, -7-12 C in the highlands, and +7-12 C in the afternoon.
/Trend/