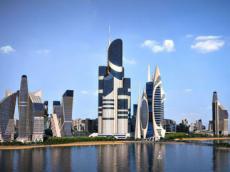 About $500 mln foreign capital will be invested in the Khazar Islands project, realized in Azerbaijan. President of Avesta concern Haji Ibrahimov said that Khazar Islands leadership held meetings with investors in Dubai and Istanbul in October.
'As a result of the talks, several businessmen decided to join the project and next week, they will arrive in Baku. The project is especially interesting for the joint company comprising entrepreneurs from Greece, Saudi Arabia, Dubai and Egypt. This company has realized the construction of several hotels in Dubai and Middle East. The company intends to invest at least $200 mln to the project'.
Also an initial agreement reached on investing of 50 mln euros in Khazar Islands project. The contract with this company is expected to sign in the coming days. The company will finance the construction of 6 buildings or 200,000 sq. mt area.
'At present, negotiations are underway with potential investors. Soon, one of Saudi Arabia's prince will visit Baku to discuss possible participation in the project. Moreover, in November, PSG company of Czech Republic, Chinese Eximbank, some Turkish and Dubai Banks and representatives of companies will arrive in Baku to conduct talks', added Nehramli.
Khazar Islands will cover 3,000 ha area. It will consist of 41 different sized islands and 19 districts. The archipelago will cover 24 sq/km by 8km in length and 3km in width. Total length of the line of boulevard islands will be 50 km. The project will cost $100 bn.
APA
/