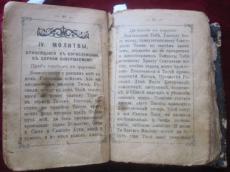 An ancient Bible was found in Azerbaijan, Director of the Zagatala Museum of History and Ethnography, historical ethnographer Jahangir Soltanov, said
The holy Bible published in the 19th century was found under the debris as the houses affected by the quake in Zagatala in May were being demolished: "The finding of "Bible" holy book of Christians in Zagatala is not surprising, because Russians, Poles and etc lived there for several centuries. It is interesting that resident of Zagatala region, whose faith is Islam, found the Bible under the debris, cleaned its dust and handed it to the Museum of History and Ethnography. The above-mentioned fact is instructive against such acts as burning of the Koran publicly in the western countries, the publication of books insulting the Prophet Muhammad."

Soltanov noted that the Bible was included into the department of ancient manuscripts and books of the ZagatalMuseum of History and Ethnography.
/APA/