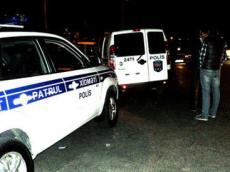 The law enforcement agencies were informed that a meeting of a number of previously convicted persons, calling themselves as "underworld leaders", was scheduled to be held at the Yagmur restaurant on Thursday evening. In this regard, a special operation was held, Azerbaijani Interior Ministry told Trend on Friday.
As a result, employees of Azerbaijani Department for Combating Organized Crime detained a group of persons.
The Interior Ministry said no one injured as a result of the special operation.
At present, investigation is underway on this fact.


*****
Baku law enforcement agency finished a special operation in Garachukhur settlement.
Cordons from the entrance to the village were remove, Trend correspondent reported from the site. Police officials declined to comment, noting that will be made the official announcement.
There was a fire exchange between the police and gunmen, Surakhani police department told Trend. Restaurant "Ya?mur", where the fire exchange occurred, was cordoned off by police.
According to some witnesses, while a special operation several persons were arrested.
Trend
/