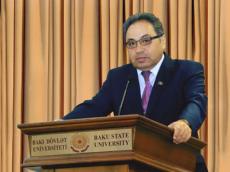 The Islamic Educational, Scientific and Cultural Organization ISESCO has awarded the ISESCO Prize in Science and Technology 2012 to rector of the Baku State University (BSU), Abel Maharramov.
According to the BSU, Maharramov has been honored with the prize for his achievements in chemistry (nanomaterials and nanotechnologies). The award includes a certificate, gold medal and money.
The awarding ceremony will be held on 20-21 November in Sudanese city of Khartoum as part of the Sixth Islamic Conference of Education Ministers.
In order to encourage innovative talent and to reward distinctive works for the solution of scientific and technological problems of socio-economic importance, the Islamic Educational, Scientific and Cultural Organization -ISESCO- awards, every two years, Prizes to Muslim scientists and technologists from its Member States who have made outstanding contributions in their respective fields.
ISESCO Prizes are awarded in Basic Sciences (Biology, Chemistry, Geology, Mathematics, and Physics) for outstanding research contributions in these fields, and in Technology for important innovation/s. Each ISESCO Prize consists of an award of US$ 5,000 and a certificate on which major contributions of the Prize Winner are mentioned.
The Prizes are presented at a special ceremony during the 6th Session of the Islamic Conference of Ministers of Higher Education and Scientific research.
Nominations are invited from Science Academies, National Research Councils Universities and Scientific and Technological Institutions in ISESCO Member States. Abel Maharramov is the first Azerbaijani scientists honored with this prize.
/
AzerTAc
/