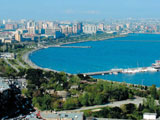 AZN 129.1 mln will be allocated for expenditures for science in the 2013 state budget. It is up AZN 5.7 mln, or 4,6% compared to the previous year.
APA reports that these expenditures will be used to finance fundamental scientific researches and scientific studies carried out by the scientific research organizations at the government agencies. AZN 3.8 mln has been designated to improve salary system, pension provision and financing of other events, AZN 7 mln to conduct scientific research projects by the Science Development Foundation, AZN 5 mln to publish books in the Latin graphic, AZN 3 mln to reestablish and overall reconstruction of scientific facilities and AZN 3 mln to improve material and technical provision in scientific research institutions.
Expenditures for science have been increased by 55.2% or AZN 45.9 mln in Azerbaijan's state budget over last 5 years.
/
APA
/