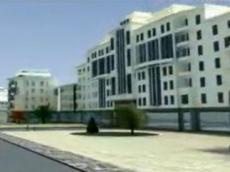 As earlier reported, the Azerbaijani State Committee for Architecture and Urban Planning has developed and approved master plans for 13 cities.
The master plans are approved for cities Gakh, Ujar, Agdash, Barda, Ismayilli, Jalilabad, Gobustan, Masalli, Shamakhi, Samukh, Sheki, Khizi and Yevlakh. 
The committee is also expected to develop master plans of other cities of Azerbaijan. The head of the Architecture and Construction Department, the chief architect of the Salyan district Executive Power ,Teyyub Huseynov, said master plan has not been approved for Salyan yet. 
"Now, the relevant work conducted in this area. The terms of the work has not been yet defined.  But I can say that the concept of perspective development of Salyan is already ready," he noted.  
Day.Az presents a video about the concept of perspective development of Salyan.