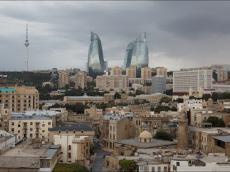 Nobel Prize laureate on Chemistry in 2011, Professor Dan Shechtman visited the Baku High Oil School last week.
Rector Elmar Gasimov provided information on the facility noted that the Baku High Oil School cooperates with Heriot-Watt University of the United Kingdom. Dan Shechtman also met with tutorial staff and students of the High Oil School.
Elmar Gasimov updated teachers and students on life and creative activity of the Nobel Prize laureate.
Rector also presented the title of Honorary Doctorate of the Baku High Oil School to Mr. Shechtman for his active participation in the expanding of relations in science and education.
Addressing the event, professor Shechtman expressed confidence on visiting Azerbaijan stressing the rapid development of the country.
Academician and First Vice-President of the State Oil Company of Azerbaijan Republic -SOCAR Khoshbakht Yusifzade, who participated in the meeting, congratulated Israeli scientist for the title of Honorary Doctorate.
Dan Shechtman is the Philip Tobias Professor of Materials Science at the Technion – Israel Institute of Technology, an Associate of the US Department of Energy`s Ames Laboratory, and Professor of Materials Science at Iowa State University. On April 8, 1982, while on sabbatical at the U.S. National Bureau of Standards in Washington, D.C., Shechtman discovered the icosahedra phase, which opened the new field of quasi-periodic crystals. He was awarded the 2011 Nobel Prize in Chemistry for "the discovery of quasi-crystals". Shechtman is the fourth Israeli to win the Nobel Prize in Chemistry in under a decade.
/
AzerTAc
/