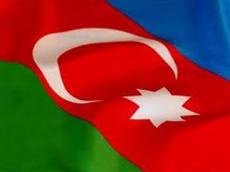 The opening of the program called "Azerbaijan on the Focus" organized on the sidelines of the XXI Open International Film Festival of CIS countries, Latvia, Lithuania and Estonia was held in Anapa, Russia.
The festival included some new films shot in recently years. The festival was opened with the "Steppe Man" film of Azeri director Shamil Aliyev.
The presenter of the film, Secretary General of the Union of Cinematographers of the country, director Ayaz Salayev also told about the dynamical development of the cinema and new works of his colleagues.
After the presentation of the "Steppe Man" in the festival mostly known as "Kinoshok", there was held press conference for mass media and spectators.
The General Director of the festival Irina Shevchuk, Directors Georgi Natanson, Khojagulu Narliyev, Ali Xamrayev, actors Natalya Arinbasarova, Rustam Saqdullayev, writer Andrei Bitov and others attended the event.
Yavar Rzayev's "Devine Creature," Samir Karimoglu's "Intention," Elchin Musaoglu's "40th Door," Fariz Ahmadov's "Lighthouse" and Rodion Ismayilov's "Camp of nomads" will be shown up in the festival.

/AzerTAc/