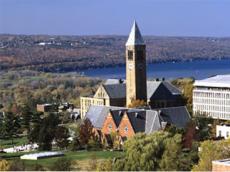 Employees of the Institute of Archaeology and Ethnography of the Azerbaijan National Academy of Sciences will participate in the 4th Eurasian Archaeology Conferences to be held at the Cornell University in US, on October 11-13.
The Eurasian Archaeology Conferences (EAC), initiated in 2002 at the University of Chicago, bring together a global community of scholars to address key issues in the archaeology of the Eurasian continent. Graduate student planned and led, the EACs offer a glimpse not only of Eurasia's past but also the future of research in the region. Papers delivered at the EAC offer glimpses of both new data and visionary ideas that will shape thinking on the region's past for years. Publications drawn from the EACs explore critical archaeological themes on a continental scale, with papers grounded in regions from Eastern Europe, to the Caucasus, to Central Asia, to Siberia and the Far East.
The Eurasian Archaeology Conferences are sponsored by departments and units across Cornell University.
/
AzerTAc
/