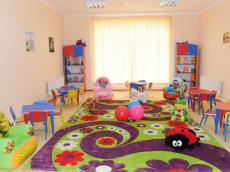 The Orphanage & Preschool Education Department of the Baku City Executive Power announces the overhaul already in 20 kindergartens of the Azerbaijani capital.
Department's chief accountant Ogtay Guliyev says that currently Baku is numbering 305 kindergartens.
"Gradually, all the kindergartens will be repaired at the expense of finances allocated from the country's State Budget," Guliyev said.
According to Guliyev, after kindergartens were transferred under Department's authority child nutrition in them has improved. Guliyev added that some buildings of kindergartens are inhabited by refugees and internally displaced persons, and work is underway currently on their stage-by-stage eviction and placement in specially-constructed houses.
/abc.az/