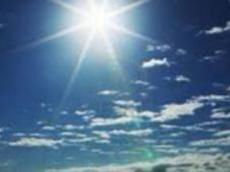 The National Hydrometeorology Department of the Ecology and Natural Resources Ministry reported that the weather is predicted to be changeable cloudy, chiefly rainless in Baku and Absheron peninsula.  North-eastern wind will be followed by south-eastern wind in the afternoon.  Tomorrow, the temperature is expected to be  16-19 C at night,  23-27 C in the afternoon.
The sea water temperature in the Absheron beaches is forecasted to be  20-23 C.
As for the country's regions, the weather is forecsted to be mostly rainless. Eastern wind will blow.  The temperature will be  14-19 C at night,  25-30 C in the afternoon,  7-10 C in mountains at night, and  16-20 C in the afternoon.
On Sept.13, the weather is expected to be relatively mild, variable nebulous, while overcast off and on and be chiefly rainless.


/Today.Az/