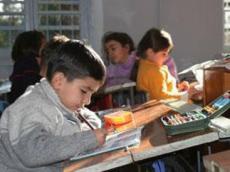 Secondary school teachers in Azerbaijan are recruited on special program. More than 16 teachers applied for the vacancies in secondary schools this year. About 3000 of them were employed. Today we choose the teacher to school via internet, said Minister of Education.
He told that he doesn't intervene to the teachers' employment process: There is a commission and a program. Everybody who wants to be a teacher can retain one of the places which he wishes. Otherwise, they should try next year. We see schools as a temple; we don't have a moral right to send any person to the temple".
Minister told that there are vacancies for teachers in the regions of Azerbaijan: It is impossible to solve this problem in a year. But not all teachers want to work at regional schools. That's why it is impossible to solve this problem during in a year or two.
/
APA
/