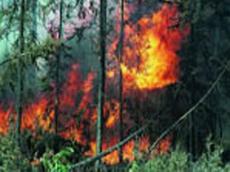 A fire accident occurred in the forest precinct ? 2 of Basgal forestry of Ismayilli Forest Conservation and Rehabilitation Enterprise near Tirjan village of Ismayilli region yesterday.
The employees of the Forest Conservation and Rehabilitation Enterprise of the regions of Ismayilli, Gabala, Shamakhi, and State Fire Protection Service of the Ministry of Emergency Situations were involved in the extinguishment of the fire which encompassed 3 hectare area covered with shrubbery, hay and sparse trees.
The disaster presumably came about as a result of unwary behavior of the local residents gathering blackberry with fire. Currently, certain measures are being taken in order to quench the fire, and prevent it from percolating the neighboring forest precincts.
Apropos the recent hot and droughty weather in the territory of the Republic of Azerbaijan, Ecology and Natural Resources Ministry) once again calls for people to be cautious with fire while in forests, and forest surrounding areas.


/eco.gov.az/