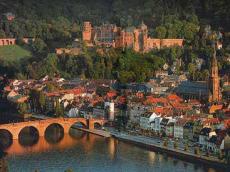 The second forum of Azerbaijani Young Physicians "In the name of health based on the knowledge" started in Mannheim and Heidelberg cities, Germany, on Saturday.
The forum co-organized by AzerMDS and ASAIF, and supported by the Azerbaijani Youth and Sports Ministry, Azerbaijani Youth Foundation and German Academic Exchange Service (DAAD) involved over 150 Azerbaijanis studying abroad.
The forum aims to study the state-of-the-art health technologies, to exchange views and experience.
Director of the Department of Surgery of the Mannheim Medical Centre Dr. Stefan Post noted that we consider Mannheim city as the Azerbaijani young physicians centre.
Counselor of Azerbaijan Embassy in Germany Rizvan Nabiyev noted that Azerbaijan`s economy had strengthened, its international image increased.
The Counselor also said that cooperation between Azerbaijan and Germany in scientific and cultural spheres had developed during the past twenty years.
"Germany is the second country in the world which opened Azerbaijani history chair in the Berlin University" he also added. The forum will end on Tuesday.
/
AzerTAc
/