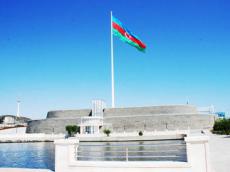 The National Flag Square opened in September 2010 already turned into a new symbol of Azerbaijan, particularly Baku.
The foundation stone for the National Flag Square was laid on December 30, 2007 with the participation of President Ilham Aliyev. Confirmed by the Guinness Book of Records, the flag flies on a pole 162 meters high and measures 70 by 35 meters. The upper part of the Square embraces three hectares and overall the square covers 60 hectares. The square features the state symbols of Azerbaijan (the coat of arms and the anthem) and the map of the country.
The National Flag Museum was also constructed here on the initiative of President Ilham Aliyev.
 The museum features flags and emblems of states and khanates which existed in the territory of Azerbaijan, constitutions of Azerbaijan adopted in past years, postal stamps, banknotes, orders, medals, the flags kissed at inauguration ceremonies by national leader Heydar Aliyev and President Ilham Aliyev, the flag of the Supreme Commander-in-Chief and ceremonial costumes.