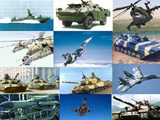 For a long time the United States defense giants have failed to win a lucrative Turkish contract in the face of competition from European and non-European rivals, but the spell was broken last week when Sikorsky Aircraft, a top US helicopter maker, grabbed the job to lead the production of Turkey's next utility helicopter for the military.
Under the move by Turkey's top decision-making body on defense procurement last Thursday, Sikorsky Aircraft Corp., a United Technologies company, defeated Italy's AgustaWestland in a $3.5 billion competition to lead the joint manufacture of 109 T-70 platforms, a Turkish version of the company's S-70 Black Hawk International.
AgustaWestland is a subsidiary owned by the Italian conglomerate Finmeccanica, the closest defense partner for Turkey in recent years. It was competing with the TUHP-149, a proposed Turkish version for its newly developed AW-149.
Turkey has two methods of defense procurement from foreign sources. The first is single-source purchases through government-to-government agreements, and the second is commercial tenders that are international competitions where more than one foreign company is competing.
In the first method, the U.S. is still the largest supplier of Turkey's weapons systems. For example the U.S.'s Lockheed Martin will provide Turkey with 30 modern F-16 Block 50 fighter aircraft worth nearly $1.8 billion soon. Lockheed Martin is also modernizing most of Turkey's older F-16 jets.
In addition Turkey is taking part in the Lockheed Matin-led, multinational program for new-generation and stealth F-35 Joint Strike Fighter Lightning II fighter aircraft, and plans to buy around 100 aircrafts.
Commercial tenders
But in commercial tenders, U.S. companies have been failing against other foreign firms in the past 10 years. For example, in 2007 AgustaWestland won a multibillion-dollar Turkish tender to provide the Turkish Army with 51 T129 attack helicopters. Later the company grabbed another contract to make Turkey another nine T129s.
Also, U.S. companies, over the past 10 years, lost bids against Israeli firms to modernize the M-60 main battle tanks and to buy unmanned aerial vehicles. In addition, a South Korean company, Korean Aerospace Industries, won a Turkish tender for basic trainer aircraft, and an Italian company, Telespazio, topped U.S. rivals and won a Turkish contract to build a military satellite.
Turkey in recent years managed to locally design, develop and produce most of what it needed for its Land Forces and Navy by manufacturing armored vehicles and smaller vessels, and its new defense industry strategy calls for greater self-sufficiency in other fields, including some fixed-wing and rotating-wing aircraft.
Sikorsky is no stranger to the Turkish military. In the 1990s it sold more than 100 S-70 Black Hawk International helicopters in two batches. In 2006, it finalized a deal to sell 17 S-70B Seahawk naval warfare helicopters to the Turkish Navy. Recently it started deliveries, and in the face of a delay in deliveries, it accepted a Turkish request to provide an 18th S-70B free of charge.
Sikorsky Aircraft, based in Stratford, Connecticut, was founded in 1925 by aircraft engineer Igor Sikorsky, an American immigrant originally born in the Ukrainian capital of Kiev.
Disappointment
AgustaWestland said it was disappointed it had lost the latest utility helicopter competition to Sikorsky.
"Unfortunately Turkey's decision was to opt for an old design of helicopter instead of leveraging on the fruitful collaboration and advantages achieved with the T129 program for attack helicopters," said Ugo Rossini, vice president head of AgustaWestland for Europe. "With that decision Turkey's aerospace industry has lost a unique opportunity to become a major player in the helicopter industry through the co-development of a new generation helicopter."
But Turkish procurement officials said Sikorsky Aircraft's financial and commercial cooperation package was better and more concrete, providing Turkey with benefits worth billions of dollars for the $3.5 billion utility helicopter program.
Now, whether the U.S. defense industry's comeback to the Turkish market will remain in place will mostly be up to who wins a new multibillion-dollar Turkish contract for long-range missile and air defense systems.
For that program the U.S. Raytheon-Lockheed Martin is offering its Patriot Advanced Capability-3 (PAC-3) systems, and is in competition with the Italian-French MBDA, Europe's largest missile maker competing with Aster 30 SAMP/T, and Russian and Chinese rivals.
Most defense experts here suggest that the Chinese and Russian options are not compatible with NATO systems, so the actual competition will take place between the PAC-3 and SAMP/T systems.
In addition, the U.S. so far has not accepted a Turkish request made more than two years ago for the purchase of MQ-9 Reaper armed drones. "It will remain to be seen whether the positive climate between the U.S. and Turkey created by Turkey's selection of Sikorsky Aircraft will extend to cover the sale of Reapers," said one defense analyst.
/Hurriyet Daily News/