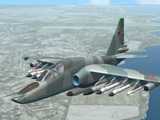 Iran has designed and tested a scale model of a stealth aircraft, the commander of the Iranian Air Force announced on Monday, Mehr News Agency reported.
The radar-evading airplane, which is called the Sofreh Mahi (flatfish), is one sixth of the size of the real one, Brigadier General Shahsaffi told the Mehr News Agency.
And in the near future, a full-scale version of the aircraft will be manufactured, he added.
He went on to say that the Iranian Air Force plans to manufacture more advanced jet trainer aircraft in cooperation with the Defense Ministry.
Iran has also extended the range of its air-to-air and air-to-ground missiles, he said, adding that the range of Ghased precision-guided bombs will be increased to 100 kilometers in the near future.
Elsewhere in his remarks, he said, "Situations are not important to us… military preparedness is important, and we are ready to respond to the enemies of the Islamic Republic at any time."
In related news, on Monday, the commander of the Iranian Navy, Rear Admiral Habibollah Sayyari, said that Iran is currently building new destroyers.
/
Trend
/