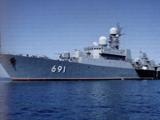 Two Iranian warships that docked in a Syrian port last month will pass through the Suez Canal on their way to Iran, a Lebanese security source reported.
The frigate Alvand and the supply ship Kharg "will arrive at Port Said in Egypt on Thursday morning and will move into the Red Sea," the source said.
Israeli officials have described the Iranian naval mission as a "provocation."
Iran's navy chief, Rear Admiral Habibollah Sayari, said on Monday in Syria that the visit by the two warships to Syria was not meant to provoke anyone. The ships are "carrying a message of peace to the nations of the world," he said.
The two Iranian warships, the first to enter the Mediterranean through the Suez Canal since 1979, docked on February 24 at the Syrian port of Latakia.
In a separate development, the source said Iranian Deputy Foreign Minister Hossein Farahi arrived in Beirut late Wednesday for talks with Lebanese officials.
/
Trend
/