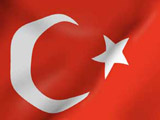 Some 3,000 Turks set off on ferry boats from eastern Libya early on Wednesday, escorted home by a Turkish frigate in a mass evacuation from the violence engulfing the North African country.
Turkish Prime Minister Tayyip Erdogan has warned Muammar Gaddafi against taking "cruel steps" to crush the uprising and called on Libyan officials to be careful in ensuring the security of foreigners.
The Orhan Gazi ferry departed Benghazi port at 3:30 a.m. with 1,500 Turks, and the Osman Gazi set off at 5:00 a.m. with another 1,500 passengers, the foreign ministry said in a statement.
"The Osman Gazi and Orhan Gazi will be escorted throughout their journey by one of our frigates," it said. Their journey to Marmaris in southwest Turkey was seen taking 20 hours.
Officials say there are 25,000 Turks in Libya, many of whom work for construction firms who have more than $15 billion worth of projects in Libya.
Turkey's navy has also sent a transport ship, with room for 1,500 passengers, and another two ships are set to be sent for further evacuations.
The ministry said that since Feb. 19, 1,425 Turks had been evacuated via Tripoli airport and 429 from the now closed Benghazi airport. Another 286 Turks flew home from Alexandria, Egypt after being taken there by bus from Libya.
/World Bulletin/