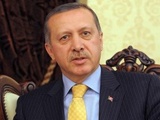 Libya's leader Colonel Moammar Gaddafi told Turkish Prime Minister Recep Tayyip Erdogan that Turkish citizens' problems would be solved. Officials said that Premier Erdogan and leader Gaddafi had a phone conversation on Sunday and they discussed situation of Turkish citizens living in Libya.
Gaddafi told Erdogan that Turkish citizen's problems would be solved. Turkey has launched efforts to evacuate its citizens from Libya, authorities earlier said.
Turkey's Ministry of Foreign Affairs is launching several initiatives for safety of Turkish citizens in Libya and their evacuation as unrest swept the north African country.
The Ministry proposed that Turkish citizens could proceed to Egypt from Libyan city of Tobruk by land and that they could be evacuated from Egypt by planes.
Hundreds of people have been killed in Libya since protests broke out across the North African nation a week ago. In the capital, Tripoli, and cities of Benghazi, Bayda and Tobruk, people took to the streets to demonstrate against Muammar Gaddafi's 42-year reign.
/World Bulletin
/