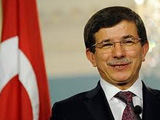 Tunisia's revolution could provide a model for other countries seeking reform if it can avoid pitfalls on the path to elections, Turkish Foreign Minister Ahmet Davutoglu said on Monday.
A popular uprising in the North African state last month ended President Zine al-Abidine Ben Ali's 23 years of rule, sending shockwaves through the Arab world and inspiring a similar revolt in Egypt.
"Tunisia has a strong middle class and high levels of education," Davutoglu told reporters on a trip to Tunis for meetings with the caretaker government.
"If the transformation is successful in Tunisia it can be a model for other countries."
He said the interim government needed to make constitutional changes and set up institutions to ensure the rule of law for the poll, expected in July or August, to ensure that it passes smoothly.
"We moved into a multi-party system in Turkey in 1946 and our first elections were in 1950," he said. "In Tunisia, there are risks because everything is happening so fast."
North Africa's smallest country, which relies heavily on tourism, has been generally calm in recent weeks since the revolt, though sporadic protests over poverty and unemployment continue and crime rates have risen.
Tunisia's revolution inspired Egypt's uprising, and has also encouraged mass demonstrations elsewhere in the Arab world, including in Libya, Bahrain, Yemen, Morocco, Kuwait, Algeria and Djibouti.
/World Bulletin/