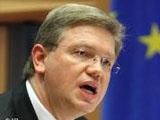 European commissioner for enlargement said on Friday that the European Union (EU) would help Turkey overcome the problems it was facing in membership issues.
Stefan Fule said Turkey was not alone and the EU would help Turkey eliminate the problems through political dialogue and financial assistance. The EU had spent more than 80 million Euro since 2007 to develop civil society organizations, particularly in the West Balkans and Turkey, Fule said during a civil society congress in Istanbul.
The European Movement International (EMI) organized Istanbul Congress on "Civil Society Organizations challenge public authorities: From political commitment to active dialogue" in partnership with Third Sector Foundation of Turkey (TUSEV).
In the congress at Istanbul's Bilgi University, more than 400 delegates from the civil society sector of candidate and potential candidate countries as well as from the European Union, together with representatives from National Parliaments, Governments and the European Union institutions, discuss and debate on how to best improve the relations between civil society and public authorities.
Speaking in the congress, Fule said they had inaugurated 32 projects to improve civil society on Thursday, and such initiatives would continue. Fule said not only governments but also EU organizations should assume responsibilities to develop the role and power of civil societies, and underlined importance of adoption of new regulations and principles by the society.
Therefore, the EU expected the civil society to have more role in preparation of a new constitution in Turkey, Fule said.
Fule also said non-governmental organizations and citizens were working on a civilian constitution in Turkey, which the EU had welcomed.
At this moment in time where the Turkish democratic model is occasionally used as a reference in recent developments in the Arab world, the EMI hopes that the conclusions to be made in Istanbul will be valuable not only for the countries involved in the process of joining the EU but also for other neighboring countries in their evolution towards democracy.
The results of the congress shall lead to a "political strategy", providing recommendations to public authorities and addressing CSOs' claims for support and enhanced dialogue at the highest level. The congress will end on Saturday.
No "Plan B"
There is no "Plan B" for Turkey to join the European Union so long as disputes over Cyprus remain, EU Enlargement Commissioner Stefan Fuele said on Friday, urging Ankara to open ports and airports to traffic from Cyprus.
"No, we don't have a Plan B," Fuele said at a gathering of European civil society organisations in Istanbul, adding that there was no way of by-passing accession rules.
Of the 35 policy chapters, Turkey has completed one, 12 remain under discussion and 18 have been frozen because of opposition by EU member states including Cyprus and France.
Under EU treaty rules, a single member state can block each stage of the accession process, since opening and closing chapters requires unanimity. Fuele said 13 chapters would be freed for negoation if Turkey opened its ports and airports.
Turkey has said it will honour the 2004 Ankara Protocol on sea and air links if the EU also ends a trade embargo on the Turkish part of northern Cyprus, as it does not want to make Turkish Cypriots feel they are being abandoned.
Turkey's leaders say some EU member states of using the Cyprus issue to block Turkey's bid and some do not want a Muslim nation, with growing economic muscle and a large population, in the 27-member bloc.
Egemen Bagis, Turkey's Minister for EU Affairs and chief negotiator, sitting alongside Fuele, said Turkey intended to complete harmonisation with EU laws by 2013, and chided EU governments for allowing Cyprus to block progress.
"As far as the Commission and the other states are concerned I think the real question is how long can we let this spoiled member of EU -- the Greek Cypriot administration -- hijack the interests of the European Union at large," Bagis said.
"It is time for the 26 other nations to wake up and smell the coffee."
Bagis said a recent survey showed that roughly two-thirds of Turks wanted EU membership, but two-thirds thought it would never happen.
/World Bulletin/