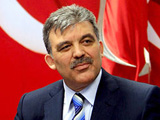 A delegation of over 100 Turkish businesspeople is set to accompany Turkish President Abdullah Gul on his upcoming four-day trip next Sunday to Tehran, Iran, said a statement from Turkey's Foreign Economic Relations Board (DEIK).
The Turkish businesspeople will meet their Iranian counterparts in Tehran as well as in Esfahan and Tabriz to seek ways to improve trade ties. DEIK Chairman Rifat Hisarciklioglu will address along with Gul and the Iranian president a meeting of Turkish-Iranian Business Forum, scheduled for next Monday.
"Relations between Turkey and Iran are having their best days due to sanctions on Tehran imposed by United Nations and the United States," the DEIK statement quoted Riza Azmugar, an executive board member of the Turkish-Iranian Business Forum, as saying.
/World Bulletin/