Turkey has reached an effective compromise on the headscarf in universities, according to President Abdullah Gül.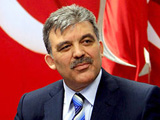 "This issue has actually been solved. It was the same when Turkey was dealing with the private TV channel problem. De facto implementation came before legal arrangements. Legal arrangements should be made calmly in order to prevent the recurrence of any problems in the future," Gül told reporters Saturday aboard a plane to London.  
Gül also said he was optimistic in the long run about a solution to the problem of terrorism as well as the Kurdish issue.
"The world has seen that no one can attain anything with stones, arms and terror. Europe also saw it and it is shaping itself accordingly. A new era is inevitable," Gül said.
"There is also a brave leadership that can undertake the risk to solve the Kurdish problem," Gül said.
He said the outlawed Kurdistan Workers' Party, or PKK, had been isolated due to domestic and international developments.
"Those [PKK members] on the mountains cannot think in a healthy fashion. They can be abused unknowingly. Now they are being given a chance. We need to show the path so that they come down and give up terrorism," Gül said. "If there is a problem, you should also give an opportunity to them to correct that mistake."
Gül also said it should be possible for the Kurdish suspects who were involved in the ongoing Kurdish Communities Union, or KCK, trial to make their defense in Kurdish in courts if they do not know Turkish.  
Commenting on the criticism toward the appointments he made to judicial bodies and universities, Gül said he was judged unjustly regarding the assignments.
"I am not taking into consideration the [clothing] of their wives when I appoint officials. I am considering whether or not they are involved in politics. I don't appoint them if they have become a candidate for a political party," he said. "I have even appointed rectors from Alevi circles."
He said he occasionally did not appoint some figures because a cursory Google search revealed inappropriate results for them, Gül said. Gül also said the university system and the Higher Education Board, or YÖK, should undergo an overall change.
Commenting on the NATO Summit scheduled for Nov. 19-20 in Lisbon in which a United States-led proposal to deploy a much-debated missile defense system on Turkish soil will be discussed, Gül said the issue did not harm Turkey's relations with the United States or Europe.
Gül further said the process of normalizing relations with Armenia had not been frozen, but were simply continuing silently.
/Hurriyet Daily News/