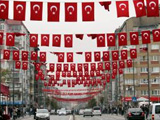 The 87th anniversary of the foundation of the Turkish Republic will be celebrated throughout the nation Friday, with various activities scheduled – weather permitting. Bad weather conditions have forced Istanbul to postpone until Sunday a parade set to take place on Vatan Street on Friday.
Nevertheless, numerous other public events will go ahead, with crowds expected to spill out on to the streets to celebrate the founding of the country. In a written statement, Prime Minister Recep Tayyip Erdoğan expressed Thursday his excitement to proudly and joyfully celebrate Turkey's Republic Day, calling on people to unite and look to the future with hope.
Some activities planned to celebrate the birth of the Turkish nation include parachute shows performed by the Turkish Air Force scheduled to take place in Ankara, Erdek, Selçuk, Ortaca, Ceyhan, Kırkağaç and Kilis.
A number of Turkish naval warships will be open to the public in Trabzon, Samsun, Kastamonu, İnebolu, Istanbul (at Dolmabahçe Palace), İzmit, Erdek, İzmir, Marmaris and Mersin. The Istanbul horizon will be the backdrop for a massive night-time fireworks show on the Bosphorus.
Republic Day commemorates the proclamation of the Turkish Republic in 1923, when, on Oct. 29, the new name of the country and its status as a republic was declared with a vote on constitutional amendments. Following approval of the new Constitution, a vote was held in Parliament and Mustafa Kemal Atatürk was selected as the first president of the Turkish Republic by unanimous vote.
/Hurriyet Daily News/