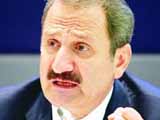 Turkish State Minister for Foreign Trade Zafer Caglayan said that efforts had been continuing to increase the daily capacity of the Baku-Tbilisi-Ceyhan oil pipeline to 1.6 million barrels, Anadolu Agency reported. 
State Minister Caglayan met with Georgian Minister of Regional Development and Infrastructure Ramaz Nikolaishvili in Ankara. 
Referring to economic and commercial relations between Turkey and Georgia, Caglayan said, "our trade volume increased about 40 percent between 2006 and 2009 and exceeded 1 billion USD. Today, Turkey is the biggest partner of Georgia both in exports and imports. Turkey's exports to Georgia increased 4.3 percent to 633 million USD between January 1 and October 25. Turkey and Georgia jointly use the Batumi Airport creating an exemplary model of good neighborly relations. We have also made significant progress in the areas of construction, direct investment and tourism." 
"Turkish contractors have undertaken 83 projects in Georgia worth of more than 1 billion USD so far. Turkish contractors' projects in 83 countries have reached an amount of 170 billion USD. Direct foreign investment inflow from Turkey to Georgia was about 636.4 million USD in the period of 1997-2009 and 20.3 million USD in the first quarter of 2010," he said. 
Meanwhile, Georgian Minister Nikolaishvili said on his part that Turkey was the biggest commercial partner of Georgia. 
He recalled that Turkish, Georgian and Azerbaijani transportation ministers held a tripartite meeting a while ago, adding that they were working on Baku-Tbilisi-Kars railway project.
/Trend/