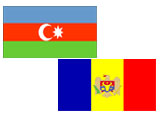 Eduard Biryukov, a representative of Moldova, became a new secretary general of TRACECA (Europe-Caucasus-Asia), Akif Mustafayev, TRACECA's Azerbaijan national secretary, said. The a new secretary general was elected at the eighth session of TRACECA's Intergovernmental Commission, held in Brussels.
Mustafayev said that two candidates for Secretary General were nominated. One of the candidates was the representative of Romania. However, a representative of Moldova became the secretary general as a result of voting.
At present, TRACECA member-states are Azerbaijan, Armenia, Bulgaria, Georgia, Kazakhstan, Kyrgyzstan, Moldova, Romania, Tajikistan, Turkey, Ukraine, Turkmenistan, and Iran).
/Trend/